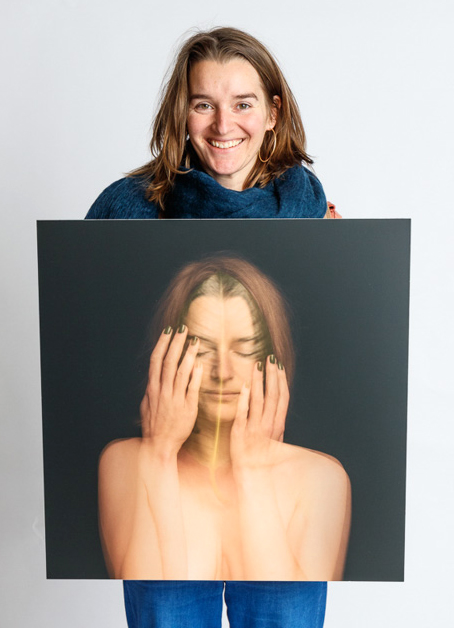 Van kleins af aan staan mijn zintuigen heel scherp afgesteld. Zo geniet ik intens van regendruppels op mijn huid en vind ik de geur van pas gemaaid gras een cadeautje. Dit was niet altijd makkelijk. Het lukte me niet deze rijke binnenwereld te uiten. Ik keerde me vaak naar binnen en werd heel dromerig.
Mijn fototoestel is nu het instrument waarmee ik de binnenwereld zichtbaar kan maken. In mijn werk als fotograaf en beeldend kunstenaar komt mijn gevoeligheid heel goed van pas. Ik creëer een sfeer en heb daarbij veel aandacht voor details zoals kleuren, kleding, lichaamshouding en vorm. Ik ben op zoek naar echte beelden die ongepolijst, speels en organisch zijn en maak daarbij zo min mogelijk gebruik van bewerkingsprogramma's. Zelfs de foto's waarbij je twee lagen ziet zijn met mijn camera gemaakt en niet door middel van beeldbewerking over elkaar heen gezet.
In mijn vrije werk is er ook alle ruimte voor spel en experiment. Ik gebruik elementen uit de natuur, zoals bijv. een blad of bloem altijd in combinatie met het menselijk lichaam. Ik heb een liefde voor mime, dans en zonder woorden zijn en vind het fascinerend hoeveel er gecommuniceerd kan worden met lichaamstaal.  Ik laat mens en natuur graag samensmelten, maar ben ook nieuwsgierig naar een spanningsveld: is het een dans of een worsteling? En ik vind het boeiend als een beeld zowel iets zwaars als iets humoristisch in zich heeft.
From a very young age, my senses are very sharply tuned. I intensely enjoy raindrops on my skin and find the smell of freshly cut grass a gift. This was not always easy. I was unable to express this rich inner world. I often turned in and became very dreamy.
My camera is now the instrument with which I can make the inner world visible. In my work as a photographer and visual artist my sensitivity is very useful. I create an atmosphere and pay a lot of attention to details such as colours, clothing, posture and shape. I am looking for real images that are unpolished, playful and organic and make as little use as possible of editing programs. Even the photos in which you see two layers are made with my camera and are not superimposed by means of image processing.
In my free work there is also plenty of room for play and experiment. I use elements from nature, such as a leaf or flower, always in combination with the human body. I have a love for mime, dance and being without words and find it fascinating how much can be communicated with body language. I like to let people and nature merge, but I am also curious about a field of tension: is it a dance or a struggle? And I find it fascinating and infinitely interesting when an image has both something heavy and something humorous in it.