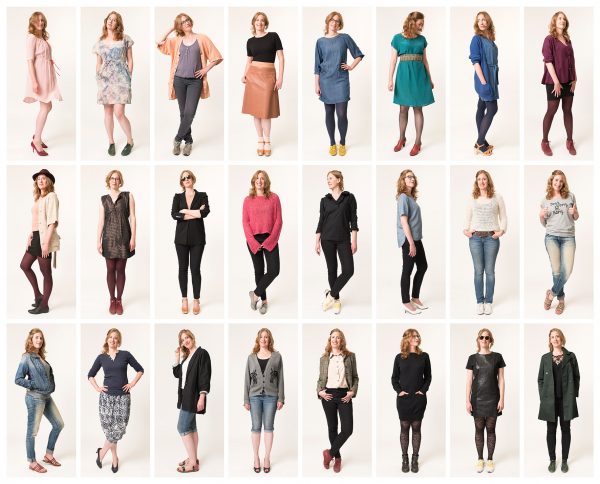 Let your wardrobe be photographed!
Wardrobe photography is my specialization!
It started with documenting my own wardrobe when I was participating with the Free Fashion Challenge.
After I posted my own overview on Facebook, I got so many comments of people that also wanted their wardrobe to be photographed that I started a project out of it.
I now have a monthly column in ELLE magazine and also private persons who want their wardrobe documented.
It works like this:
I built up a studio in your living room.
You've in advance picked out the outfits you like to be photographed in.
You wear the outfit and strike a pose!
After, four, six or eight hours I photographed about 20 to 48  outfits and I will make this into an amazing overview for you.
What's in it for you?
> a print with an overview of your outfits
> a great opportunity to clear out your closet
> less is more, you can easily choose what to wear once you have the overview
What is your investment?
4 hours shoot = 2,5h of photography = 20 outfits = 400 euro* incl. 4h editing
6 hours shoot = 4h of photography = 30 outfits = 600 euro* incl. 6h editing
8 hours shoot = 6h of photography = 48 outfits = 800 euro* incl. 8h editing
* incl. 4, 6 or 8 hours editing
* including a print overview in 20x30cm
* excl. 21% TAX
* excl. travelling costs
* I assume to photograph 8 outfits an hour, this may differ a bit per person
Ordering a bigger print or the separate pictures is possible for an additional fee. Please contact me for details.
TIP: A super christmas- or birthdaypresent! Also possible during a bachelor party.
EXTRA: Styling advise or make-up is possible.
Mail me for more info and prices chantalehrhardt@gmail.com